Greatest Love Songs Vol.666 (1997)
in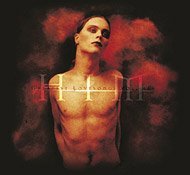 Greatest Lovesongs Vol. 666 is HIM's debut album.
Guest vocals were provided by Sanna-June Hyde and Asta Hannula on "(Don't Fear) The Reaper" and "For You", respectively.
In keeping with the theme of 666, the albums length is 66 minutes and 6 seconds and contains 66 tracks, 56 of which are blank.  
Although sometimes perceived to have Satan-worshiping references, Valo explains in an interview that the album was not to be perceived as such. (wikipedia)
TRACKS:
"For You (Intro)"

"Your Sweet Six Six Six"

"Wicked Game" (Chris Isaak cover)

"The Heartless"

"Our Diabolikal Rapture"

"It's All Tears (Drown in This Love)"

"When Love and Death Embrace"

"The Beginning of the End"

"(Don't Fear) The Reaper" (Blue Öyster Cult cover)