And Love Said No (2004)
in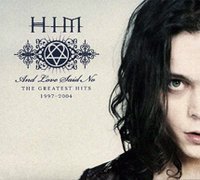 And Love Said No: The Greatest Hits 1997–2004 is HIM's first greatest hits album. Released March 15, 2004, it contains two unreleased songs: "And Love Said No" and "Solitary Man", the latter of which is a Neil Diamond cover. The British version also has a re-recorded version of "It's All Tears (Drown In This Love)". With 16 songs clocking in at approximately 67 minutes. Included with the disc is a 9-page foldout containing one band photo, song credits, and a poster of Valo on the reverse side. All songs written by Valo, except for "Wicked Game" (Chris Isaak) and Solitary Man (Neil Diamond). As the title of the disc states, this compilation follows the band from 1997-2004. Also – there is special edition version of this album available – with a 2nd disc (DVD) featuring 6 live songs from Helsinki's Semifinal Club.
When the CD is removed from the case, and the case is held up to the light, on the CD side there is a message from HIM. It says "Thank You!", with the exclamation point being dotted with a Heartagram in a circle.
There were released two videos for the singles 'And Love Said No' and 'Solitary Man', both produced by Bam Margera, proffessional skater, Jackass co-star and personal friend of the band.
TRACKS:
1.     "And Love Said No" – 4:10
2.     "Join Me in Death" – 3:37
3.     "Buried Alive By Love" – 5:01
4.     "Heartache Every Moment" – 3:56
5.     "Solitary Man" (Neil Diamond Cover) – 3:36
6.     "Right Here in My Arms" – 4:00
7.     "The Funeral of Hearts" – 4:29
8.     "In Joy and Sorrow" – 3:59
9.     "Your Sweet 666″ (Re-Recorded Version) – 3:57
10.  "Gone With the Sin" – 4:22
11.  "Wicked Game" (Chris Isaak Cover) (Re-Recorded Version) – 4:06
12.  "The Sacrament" – 4:30
13.  "Close to the Flame" – 3:47
14.  "It's All Tears (Drown in This Love)" (Re-Recorded Version) – 4:30*
15.  "Poison Girl" – 3:51
16.  "Pretending" – 3:41
17.  "When Love and Death Embrace" – 6:08
* – Only available on the UK version
BONUS DVD: Live at the Semifinal in Helsinki (April2003)
1.     "Soul On Fire" – 4:09
2.     "The Funeral of Hearts" – 4:44
3.     "Beyond Redemption" – 4:23
4.     "Sweet Pandemonium" – 5:07
5.     "Buried Alive By Love" – 4:48
6.     "The Sacrament" – 4:34
Review:   http://blogcritics.org/archives/2007/05/31/092111.php
Source: Wikipedia