Razorblade Romance (2000)
in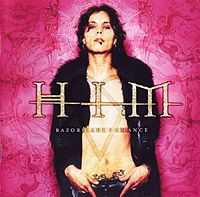 Razorblade Romance is the band's second studio album , and the one that made HIM a huge success in Europe when their single 'Join Me in Death' was featured in the movie The Thirteenth Floor.  It reached #1 in Germany, going platinum, and is the biggest selling single in Finnish music history.
Released on December 19, 1999 in Finland and January 24, 2000 in the rest of Europe, Razorblade Romance reached the States only later on. Due to the fact that there existed a jazz band named HIM in Chicago, who did not want to give up the rights to their name, HIM released their album, in the US, under the name 'HER'. Only a limited number of copies were released in the Boston area, making this a rare collectors item, among HIM fans.
Later on, HIM bought the rights to use their name in the US and released Razorblade Romance nationwide.
ORIGINAL TRACK LIST: 
  "I Love You (Prelude to Tragedy)"  

 "Poison Girl" 

 "Join Me in Death" 

 "Right Here in My Arms" 

 "Gone With the Sin" 

 "Razorblade Kiss" 

 "Bury Me Deep Inside Your Heart" 

 "Heaven Tonight"

 "Death Is In Love With Us"

 "Resurrection" 

"One Last Time"

"Sigillum Diaboli"(German Digipak Bonus Track)

"The 9th Circle (OLT)"(German Digipak Bonus Track)
US TRACK LIST:
 "Your Sweet Six Six Six" 

"Poison Girl" 

"Join Me in Death"

 "Right Here in My Arms" 

"Bury Me Deep Inside Your Heart"

 "Wicked Game"  (Chris Isaak cover)

"I Love You"

"Gone With the Sin"

 "Razorblade Kiss"

"Resurrection"

"Death Is In Love With Us"

"Heaven Tonight"

 "Sigillum Diaboli"

 "One Last Time"