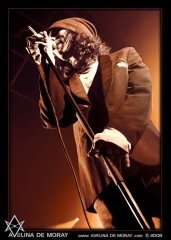 When Ville Valo saw KISS bassist Gene Simmons perform, he knew that that was what he wanted to do. So he picked up his bass guitar and set out to pursue his passion. But little did he know that the instrument with which he would captivate the hearts of fans worldwide was not his bass.
Born to Anita and Kari Valo, on November 22, 1976, in a small town called Vallila, Ville Hermanni Valo was raised in a music loving environment. Artists such as Tapio Rautavaara and Elvis Presley were often heard in his home. It is said that, at age 3, baby Ville 'debuted' in front of his family, as a bongo player! During his youth he was introduced to metal bands such as Kiss, Iron Maiden and Black Sabbath, which had great influence on his desire to enter the music world.
Ville had no doubt of what his passion was, and he had the determination to pursue it, bringing him (pun intended) to where he is today…
While Ville Valo is now a fan-favourite, he wasn't always one everyone loved. At least his teachers weren't necessarily his fans. Known to have been quite mischievous, somewhat difficult, and even a bit 'disruptive' in school, his teachers tolerated him by encouraging his creative and artistic side.
Having played in various bands while in school, Ville believed it was time to form a band of his own. Alongside his friends Migé and Linde, Valo founded 'His Infernal Majesty'.
With the band in need of a vocalist, the already songwriter and composer, Ville Hermanni Valo, was crowned singer and front-man of HIM- a role he reluctantly accepted at first – but this shy teenager quickly showed the world that he was the man for the part.
Capable of creating profound, heart-throbbing lyrics and melodic, mesmerizing melodies that seem to flow through his body and out his vocal cords ( into our body), Valo is also gifted with an undeniably charismatic personality, a worldly knowledge, an uncanny sense of humour – and the looks to match.
Valo is a force to be reckoned with and plays a very important role in the bands image and success. 
 VOCALS – GUITAR – BASS – DRUMS – KEYBOARDS  
Cool Singing Lessons
~~~~~~~~~~~~~~~~~~~~~~~~~~~~~~~~~~~~~~~~~~~~~~~~~~~~~~~~~~~~~~~~~~ ~
Text copyright of the HIM Library. You may use it as long as you mention and post a link to this site.
Photo by Avelina de Moray. Posted with permission.