Marya Dias Gomes Speaks About Her Interview With Ville Valo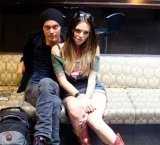 Brasilian writer and correspondant for Spin Earth, Mayra Dias Gomes, posted today in her fotolog a message about her interview with Ville Valo. It is in Portuguese but for those of you who don't understand, I have translated the article (as well as I can)…
"I recieved a bunch of sweet e-mails from fans all over the world and I was even in a special Italian HIM magazine. I found out that the girls were crazy to find out how my encounter with Ville Valo was, and I'm going to tell you. Seems like he doesn't give interviews since 2008 and I feel honored.
Ville arrived at our hotel, located in the center of the city by foot, holding a backpack on his shoulder and a cigarette in his mouth. He gave everyone a handshake and headed to the hotel disco where our interview was held. In Finland, me and Ricardo Campos (chefe editor of Roadie Crew), were a team. He focused on the technical part of the work with the artists – and I, with the personal part. The plan was to always start with his questions, that ended involving the musicians in the sound of their favourite musicians. Many times, like in Jyrki's case, it took hours. In Ville's case, though, it only softened the ground for me. My interview spoke about the new phase in Ville's life - without drugs, without alcohol, without a girlfriend, releasing a new album on Valentine's Day. I was nervous about asking my questions because I didn't want to perturb (disturb?) him, but I was surprised when I realized he was anxious to speak about everything I wanted to know. Plus: with good humour and great humility, drinking redbull.
Ville told me he doesn't like going out on dates. He likes to fall in love suddenly. I asked him if he was looking for love and he answered that he has set his net out at sea, but hasn't found a good fish yet. He said he was anxious to "fall head over heals"(?) again, among other things.
We spoke about the death of people close to our hearts, about literature, about the new album producer who has worked with Panic at the Disco and Katy Perry, about quitting drinking, drugs, sex…
It was a wonderful interview. Ricardo said that he held a stick (not sure about the correct translation for this). It has probably been one of my best interviews since I managed to hold the interviewed person in the palm of my hands. (?)
When the interview was over, Ville stayed for a while with us, talking and smoking cigarretes. He had planned meeting us at night for the Candlemass show at Tavastia. Before leaving he did some special favours: publicity for Spin Earth with Ricardo's CD in his hand, and a photo for my friends of Bastardz.
An example of a rockstar, I would say. An example of a human being. Thankyou Ville. We love you."
Feel free to use this as long as you post a link to this site and to Mayra's.