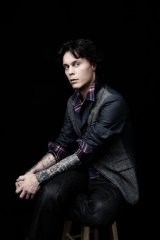 Translation by sineresi @ livejournal
 RICH HEARTBREAKER

HIM's latest album Venus Doom didn't sell nearly as much as Dark Light, which earned a gold record in the US. With the new album Screamworks: Love in Theory and Practice, Ville Valo puts on a poppier gear. Will the change of style help the sales figures shoot up again?
Question: Musically Screamworks is the most cheerful HIM ever, but the lyrics are once again filled with despair. How did that happen?