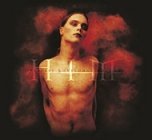 What was the inspiration behind Greatest Love Songs Vol.666? Here is what Ville has to say:
For You (Intro)
"For You is a 1950's riff, that song began with it and was repeated in the chorus.  It perhaps is directly copied from the original Wicked Game.  The riff itself is a sort of 1980's type of thing.  In fact, I stole it from Rory Erikson's The Evil One album, the Bloody Hammer song which is a little slow.  In other words, in principle it was just one big theft as usual."
Your Sweet Six Six Six
"The piece is like those provocative horror films and this is the first lyric where I used a 666 story totally on purpose.  The words "your sweet six six six" is stolen from Led Zeppelin.  A certain minister had alleged that that sentence could be heard in the song Stairway To Heaven when it was played backwards.  The 666 story in the song is to be taken as a joke. It's only a number that conjures up an image.  I admit it is a little bit stupid, but to me it is totally like Ronnie James Dio holding his little finger and index finger up.  It is rock and roll's expression and reinforcement.  Perfect.  The Your Sweet Six Six Six song is a piece of Iron Maiden, that horror movie atmosphere.  The words from it are a love song, how another human being does bad things to you, but still it's fucking hard to walk away.  You don't know what's right if you want to break off all ties to it.  All of the songs on the record are about this subject, they're all about the same thing except for The Heartless.  With the first album, we played Your Sweet Six Six Six at every show and it was recorded also again on Razorblade Romance in another version.  It's a song that the band really likes a lot."
The Heartless
"The Heartless" tells about first love with your best friend.  At the time, I was sure that my best friend was totally heartless to this person that I loved and that I was right, but really it went well, and the world didn't end. The Heartless is an old song, and we did the first version with Linde which we then tried to do with Patka and Mige in some other band.  We did it in probably in 1994.  So, it's really the first song that I ever wrote for HIM."
Our Diabolikal Rapture
"This song's basic riff is kind of a classic thing.  Linde played a totally different heavy riff, but among us we did a few silly recordings which were never heard by anyone else.  Then we made it long so that in time it became a stoner kind of thing. It was sort of the same as when Randy Rhoads was just tuning up his guitar with Ozzy Osbourne who said "wait, play that again!" Randy said, "oh, what?"  And he played it again and from it came Crazy Train. Our Diabolikal Rapture is one of our best songs.  It is a hell of a great mood and progression but catchy at the same time.  That song has our best groove and guitar sound."
It's All Tears (Drown In This Love)
"It's All Tears lyrically was really successful.  That's it."
When Love and Death Embrace
"The melody to the verses in When Love and Death Embrace was stolen from the Twin Peaks soundtrack.  It even has the same dark sound.  Many times they say that it's a little like the Twin Peaks films.  I was fucking happy with it.  Nobody else had used the Moog synthesizer for many years, and we did it as HIM's trademark.  I was happy that we made that for ourselves.  It's like John Lord's Hammond.  If you played a rock Hammond, you'd better sound like John Lord.  I hope from here on that the Moog choice is a good thing for HIM.  The album's length was a lot like Type O Negative and its listening time is clearly because of When Love And Death Embrace.  The song is slow and atmospheric stuff with a 1980's heavy sound and really dark, and it was our first song which was played on the radio in Finland and Germany."
The Beginning Of The End
"The Beginning Of The End is one of those songs that is hard to talk about at all.  I remember only that the song sounded noisy.  We hammered out that song at Munka's dusty old youth center studio, Satan's basement.  With that song, we weren't really playing for a long time, at least the memory can be mentioned.  It is a more progressive thing than we would do these days.  'Save your happiness for tomorrow, today we'll drown in your tears.  A drop of your blood tastes like wine.'  We saw it being done a lot like a vampire movie." 
(Don't Fear) The Reaper
"Blue Oyster Cult's (Don't Fear) The Reaper was very exciting in its time which I had on a cassette from a friend where the song was recorded along with the Allman Brothers.  I found the cassette five years later, listened to it and thought about it.  The song wasn't even entirely on the cassette.  I saw that it was in the first Halloween movie where Jamie Lee Curtis and her school friends were driving in the fog and they destroyed the car and the car radio was playing that song.  It became associated with that movie and with Satan.  I wondered if anybody had done a cover of it and something had been done.  As an example, Pelle Miljoona and Andy McCoy's song Like Romeo and Juliet which was a total piece of shit."
In SYNNIN VIEMAA  Pg. 80 – 81, translated by and posted with permission of singer Lugene Chicks.