Posts Tagged 'Love The Hardest Way'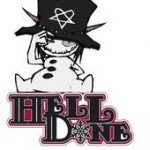 Tonight was the first night of Helsinki's Helldone Festival and as tradition demands HIM took the stage at Tavastia. While their recently released single Heartkiller was expected to be heard during the festival, HIM surprised fans with 2 more new songs from their new album Screamworks: Love in Theory and Practice. The songs 'Love, the Hardest Way' and 'Scared to Death' were part of tonight's setlist, alongside classics such as Wicked Game, The Funeral of hearts and Your Sweet Six Six Six. A special thanks to HIM Norway who has kept us posted through twitter, revealing the setlist of tonights performance in realtime, and has put up a video of …. drumrolls… Scared to Death and Love, the Hardest Way!
http://www.youtube.com/user/HIMNorway
A big thankyou to HIM Norway!